Below you can find some of the more popular chat products.
I use all of them for different purposes.
Some of The More Popular Chat Products
We will take a closer look at some of the more popular AI chat products.
Each tool brings unique features and benefits to the table, and I personally use all of them for different purposes.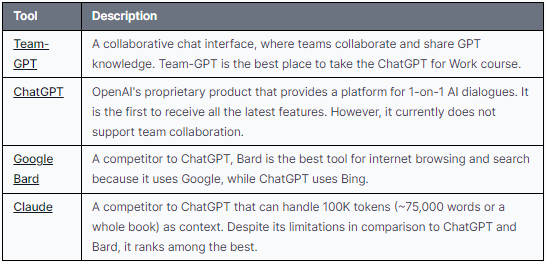 Team-GPT
Team-GPT offers a unique, collaborative chat interface.
Here, team members can seamlessly collaborate and share their GPT-related knowledge.
With its focus on teamwork, Team-GPT is the best place to take the ChatGPT for Work course.
💡 This lesson is a part of the ChatGPT for Work course
The course is interactive, if you take it inside the Team-GPT platform.

ChatGPT for Work: The Interactive Course contains:

• 100+ tried and tested prompts
• 100+ exercises
• 100+ extra notes and comments
• 1000s of use cases
• PDFs files for later reference

It is also completely FREE.

Start today and become a ChatGPT expert in less than 7 days!
ChatGPT
Next on our list is ChatGPT, OpenAI's proprietary product.
This platform is designed specifically for engaging in 1-on-1 AI dialogues.
It is the first to receive all the latest features.
However, it currently does not support team collaboration.
Google Bard
Google Bard poses as a strong competitor to ChatGPT.
Bard is the best tool for internet browsing and search because it uses Google, while ChatGPT uses Bing.
Claude
Last but not least, we have Claude.
A competitor to both ChatGPT and Bard, Claude stands out with its ability to handle 100K tokens, ~75,000 words, or the equivalent of an average book, in context.
Despite certain limitations, Claude ranks among the best, highlighting its own unique strengths in the AI chat market.
Matching AI Chat Products to Your Needs
Remember, the choice of tool ultimately depends on your specific needs and requirements.
Feel free to explore each tool and identify the one that best suits your needs.
Good luck!